Inverter manufacturer

buy@inverter.co

tech@inverter.co
I would like some clarification on your opinion that micro inverter "win" as I am always interested in that perspective since we are launching our own this summer.
Personally, I would draw the line around 250 - 400 kW. Below that string inverters work out well. Above that central inverters have their place (and will save money). Can it be made to work either way, and work well? Sure!
Coupled with remote monitoring and control, the DC module + string inverter system can be highly reliable with guaranteed continuity of supply and provide for machine initiated planned maintenance management communications in event of component failure.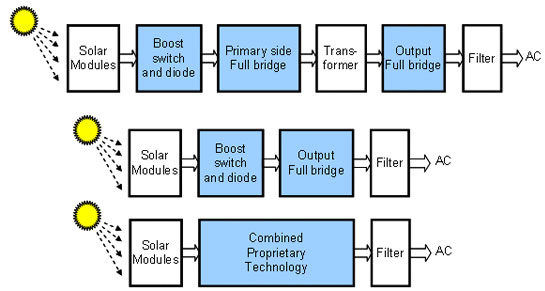 At this point, though, the biggest single cost item in a PV installation is not the PV module - but to the inverter. Inverters do benefit from reduced components costs, and are also evolving in design that can be more efficient (i.e. produce more power) over the broad range of conditions experienced in a PV installation.


Can you suggest me some integrated unit which can handle this. ( It should have input as grid, PV, Battery and single load output)


The solar pv modules segment is now shaping up interestingly. As I have seen while the bigger players are trying to sell off their assets the smaller players are still betting on the long term. The long term will pay off as we can see that based on the NSM draft released by the govt. it plans to add more than 1GW every year. And we can see the potential for business for a module / inverter manufacturer. The focus till now has mostly been on modules, but if we look at the rest of the supply chain (of BOS) such as inverters, junction boxes etc they also have similar business potential.



I think that India already has a competitive advantage in manufacturing power electronics. Solar inverter suppliers such as AEG, ABB, Bonfiglioli, Schneider and Refusol are already manufacturing in India.
Module costs (in percentage terms of the total cost) are already less than half of the system cost and this trend is expected to continue. Investment in solar inverter manufacturing requires a strategic bet on technology and processes that may evolve very quickly over the next one decade.