Inverter manufacturer

buy@inverter.co

tech@inverter.co

If you have not seen a wiring diagram, a bypass is most commonly a reversing starter (two switches and an overload) where one switch is connected to the output of the frequency inverter and one switch is connected to the mains. Both power paths have protection. This is often called a Two Switch Bypass. A more complete system places another switch in front of the frequency inverter so as to completely isolate the frequency inverter for service. Surprise! That is called a Three Switch Bypass. Using a reversing starter prevents closing both switches by a mechanical interlock (but you knew that!!).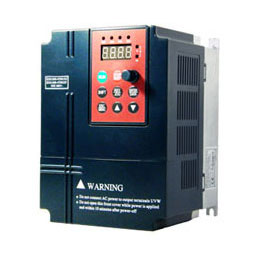 - uses current-switching techniques to control motor torque as well.
Flux vector inverters can run with or without feedback. Open-loop types use motor data and current measurements to calculate rotor position. These calculations, usually performed by a digital signal processor, are accurate to within ±1.0% of base speed. Closed-loop vector inverters add encoder feedback to the equation, so the frequency inverter always knows the exact position of the rotor. This improves speed accuracy to about ±0.01% of base speed, and provides true infinite speed range, including full torque at zero speed.


Use of Solar for water pumping is mainly due to the fact that water pumped when sun shines can be stored. The use of battery will make it expensive.
Nowadays DC motors are as good as AC motors in performance and life as such going for DEC motors should be generally preferred as this reduces losses.


Note that 80% of solar generation in Germany is from Rooftop plants. India should take advantage of number of residences/commercial buildings in the country. Provide a conducive atmosphere for the growth of solar harvesting. As such the terms and conditions of loan tenure etc is to be moderated to the advantage of small producers-residential rooftop solar power producers.