Inverter manufacturer

buy@inverter.co

tech@inverter.co
1000 Watt 12v/24v Power Inverter for House
1000w 12v, 24v, 48v power inverter for house appliances on sale. We do not charge engineering analysis for our power inverter system because we do not do house roof mounted systems.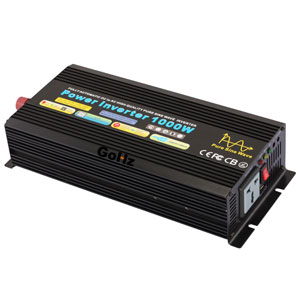 All of our systems are basically the same, only the inverter size changes. Thus for the 1000 watt solar power inverter for home owner, its exactly the same wiring and power inverter setup for all home owner installations. Wiring, string sizing, DC breaker box, AC breaker box are all the same. In this specific case, wiring from the DC breaker box is in underground conduit to the power inverter. Since I believe a combiner box should be used with 1000w power inverters, don't really see why wiring is a price advantage for the inverters.
Buy an 1000w Power Inverter NOW!
1000 watt Power Inverter General Specification
Input
DC Voltage
12V
24V
48V
DC Voltage Range
10.5V~15V
21V~30V
42V~60V
Output
AC Voltage
100V, 110V, 120V, 220V, 230V, 240V (Option)
Frequency
50Hz / 60Hz +/-0.3% (Option)
Rated Power
1000 watt
Peak Power
2000 watt

Waveform
Pure sine wave (THD<3%)
Efficiency
>90%
Fuse
40A
20A
10A
Remote Control
YES (Add-on)
NO
USB Port
DC 5V +/- 5%, 500 mA
Outlet Types
Universal outlet (Or specify it in orders)
Protection
Over Voltage
All indicators OFF, alarm Bi~~~
Under Voltage
10.5V
21V
42V
Indicate alarm Bi~~~, then all indicators OFF, alarm BiBi~~~
Overload & Short Circuit
Red indicator ON, alarm BiBi~~~
Overheat
Yellow indicator ON
Environment
Working Temperature
-5-50°C
Storage Temperature
-20-55°C
Working Humidity
10%-90%
Storage Humidity
5%-95%
Specs
Dimension
(310+30) * 157 * 75 mm
Package Size
420 * 203 * 90 mm
Net Weight
2.7 kg
Gross Weigh
4.1 kg
We have found that a very potential market for approx 1000w power inverters in Australia and New Zealand. The claim to fame for 1000w power inverter is ease in installation and panel by panel optimization. However, the key feature for this growing market is modularity. Residential users can install small inverter systems at a low initial investment and grow the system over time. This resolves the lack of financing for residential market. A majority of people can afford 500 watt to 1000 watt at a time. In this region, a 1000w system would reduce 54% of consumption but 78% of expense for typical users because of the tiered electricity pricing. While each system represents small sales, the potential volume is huge and we plan on capturing it.